The TrueImage M1000 is an advanced imaging device that can be used in the laboratory, field or office as a document examination and investigative tool. Engineered utilizing the MACHCAM 71 mega-pixel camera and an advanced lighting array (patent pending), the M1000 can image passport and similar sized documents at 2,000 pixels an inch making it an essential and versatile tool in forensic document examination.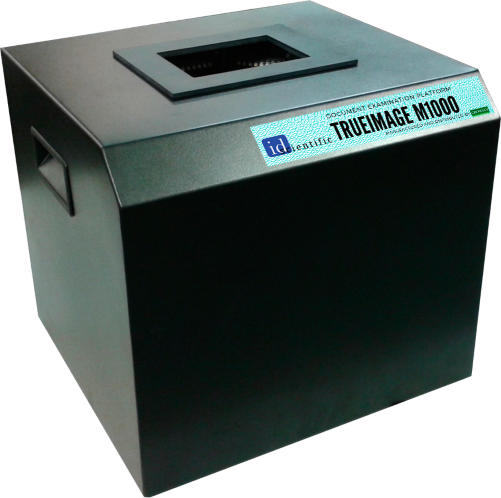 Key Features and Benefits
Forensic Quality Imaging
. The TrueImage M1000 is designed specifically to capture document images for forensic quality investigation, revealing the key features needed for document examination.
Laboratory Examination
. The advanced patent pending lighting array, coupled with the MACHCAM 71 high resolution camera, yields quick, easy, high quality image captures of a questioned document or a genuine exemplar. Capture settings include: white light, UV365 and angled white light for optical variable devices (OVD).
Field Examination
. The simple software interface enables document scrutiny to be performed at the point of presentation using predefined settings explicitly designed for secondary type investigation when the document in question must be thoroughly examined.
Remote Examination
. The TrueImage M1000 offers a centralized examination option using the
Remote Forensics
web application. Remote Forensics allows the field user to capture document images and submit them to a verification laboratory or other user for real-time review. This alleviates the field user from making a document verification determination and reduces the overall training necessary to use the system.
Technical Specifications
Camera: MACHCAM 71 mega-pixel; full color RGB
Imaging Resolution: 2,000 pixels an inch
Imaging Area: 127mm x 90mm/5 in x 3.5 in.
Interconnects: USB 3.0
Power: 120v/240v
Advanced Lighting (Patent Pending)
80 banks x eight (8) LED's per bank
15 - 60 degree angles; five (5) degree increments
Each degree increment is available in 8 directions (N, NE, E, SE, S, SW, W, NW)
UV365 •M1100 IR (720nm, 850nm and 940nm)